Spanning four generations of impressive evolution and formidable position in the automotive world, the Triton has become one of Mitsubishi's most successful lines of pickup trucks since the introduction of its predecessors in late 1970s.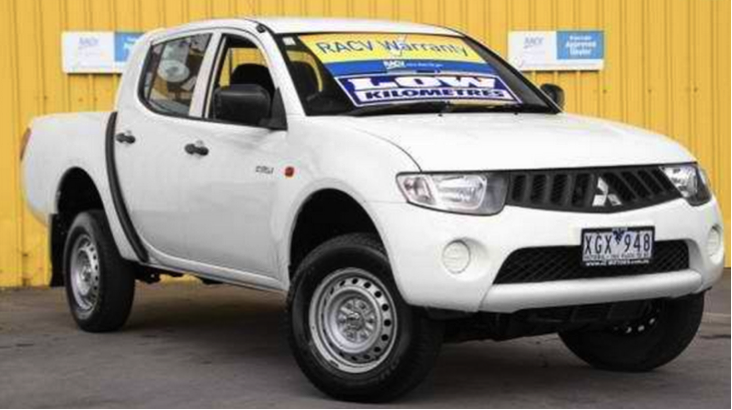 Forget about the older ones and let's fast-forward to Mitsubishi Triton Used Pick-Up Trucks, which recently made us happy as our bestselling pickup trucks among other used cars in Melbourne. Let's take a closer look at this monster and discover why our customers are very happy with the second hand Mitsubishi Triton.
This fourth-generation Triton, designed to compete directly with that of Toyota's and Nissan's own pickup trucks, seems to be doing very well in the competition. Thanks to its powerful engines and cool external and internal features, the details of which we shall be highlighting below.
Powerful Diesel Engine, Fuel Economy and Great Super-Select 4WD System
The 2009 Triton sports a 3.2-litre diesel engine that uses direct injection and an intercooled turbo, pumping out 120 kilowatts of power and 343Nm of torque. The impressive torque allows greater flexibility especially when driving in challenging conditions. Even at normal cruising speeds, the Triton feels comfy and gracious, only that the engines are a tad noisier than average. Other than that, the cabin feels smooth even at fast maneuvers.
With the Triton, you have two transmission options: the 5-speed manual or the 4-speed automatic unit. But both deliver satisfactory performance. It all depends on your preference. And when it comes to fuel economy, this beast is unexpectedly has a very good rating of 9.9 liters per 100 kilometers. That's good enough for a pickup truck of its rank in terms of power and performance.
In addition, what we like much about the Mitsubishi Triton is the Super-Elect 4WD system, which features four driving modes that you can easily choose while driving, easily converting your truck from 2WD to 4WD when running at speeds up to 100 kilometers per hour.
Test Driving the 2009 Mitsubishi Triton
What can we say? Driving the Triton on and off road is simply one of the smoothest experiences we've had. Handling the pickup truck is also a breeze when driving at fast speeds. The only downside we've noticed is a long steering ratio, which means taking U-turns or making complex parking would require more when turns. But overall, on the road grip especially in wet conditions is acceptable enough.
Curvy Yet Masculine External Features
When it comes to overall aesthetics, the 2009 Mitsubishi Triton comes in a futuristic style, with 100% masculine curves that deviate far away from the rather boxy look of the first, second and third generation Tritons. Even the square try doesn't look sharp because of their rounded edges. The metal side steps, contrasting wheel arcs, grimacing face and a large bumper add up to the tough look and feel of the Triton.
At the back of the pickup truck is a rear bumper that sports a built-in step to provide ease of access to the rear tray, which when compared with that of other trucks, look a tad shorter but deep and wide enough to carry a payload of 1000 kilograms, maximum.
So, the overall external look of the 2009 Mitsubishi Triton is really something very attractive to our standards.
Cool Interior Design and Spacious Cabin
Mitsubishi Triton's round theme extends even to the interior cabin. From the attractive contours of the dashboard to the door inserts, they're all finished with curvy edges that render a smooth look and feel. The onscreen interface can display a compass, as well as barometer and altimeter readings. This information may come in handy when driving in an off-road adventure. In other words, the interior cabin could serve as both serious professional and recreational purposes. One feature we found a bit outdated though is the stereo.
We mentioned earlier the rather shorter rear tray that's unique to the Triton. This may seem like a downside, but inside, at the rear seat section, you'll see why: There is just more than enough legroom for your passengers. And that's a plus point in terms of comfort especially during long trips.
Other noteworthy components inside are the leather steering wheel and gear knobs, electric windows, powerful air-conditioning system, rear power windows and the dashboard computer.
The 2009 Mitsubishi Triton also boasts significant improvements in safety standards, having a four-star ANCAP safety rating and also featuring added side and curtain airbags for the passengers.
Overall Rating
 In all the 2009 Mitsubishi Triton's flawless masculine internal style, spacious double cab, safety focused design and powerful diesel engine makes it one of the bestselling used pickup trucks this year. Our clients are just as happy with these second hand Tritons as those who purchase brand new ones.
Of course, all our Mitsubishi Triton models are RACV tested, and you can be sure the one you buy still meets or even exceeds your expectations. Only the best from JZ Motors for you!
If you wish to check our used Mitsubishi Triton pickup truck in Melbourne, call us or visit our showroom now while our lineup lasts.