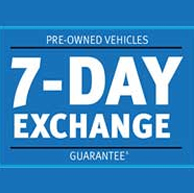 Have you ever bought something and then the next day wished you wanted a size up or a different color? How's that work with a used car? At JZ Motors we know that sometimes buyer's remorse is really just a case of "Gee! I wish I'd bought the one with grey leather". That's why we offer our No Questions Asked 7 Day Exchange Guarantee Policy!
It's pretty simple, within 7 days of your purchase you have the privilege of exchanging your vehicle for any other vehicle in stock on our lot. It doesn't matter if you don't like the way it drives, the way the seats feel or even if you decide you don't like that color after all. And the vehicle you choose doesn't have to be more expensive, if the car you really want on our lot happens to be a little bit less money we refund you the difference.
So buy with confidence at JZ Motors and know that if it turns out to not be the car for you, you can bring it back within 7 days and with less than 500 new kilometers on it to have the full purchase price applied to any other vehicle in stock on the lot. How's that for an EXCHANGE POLICY!
It's just one of the many reasons why JZ Motors is one of Melbourne's leading RACV Greenlight Approved Dealers.
so go ahead, check out my used vehicle range and choose the one you like